Hammer Crusher
Hammer crusher is used as fine crusher for mining, metallurgy, construction and some other industries. It is used for crushing medium hard materials with weak abrasiveness, and the compression strength of the materials to be crushed should not exceed 100MPa, and the water content should be lower than 15%.
Processing Materials
Rock gold ore, rock coltan ore, rock tin ore, rock tungsten ore, rock iron ore, rock manganese ore, rock chrome ore, stones, gravel, coal, granite, marble, limestone, glass and some other materials.
Application Range
Hammer crusher is widely used for crushing various materials like stone, rock gold, rock coltan, rock tin ore, granite, trap rock, coke, coal, manganese ore, iron ore, emery, fused aluminum, oxide, fused calcium carbide, lime stone, quartz, alloys, glass, etc.
Advantages and Characteristics
Advantages and Characteristics:
1.Easy installation and maintenance.
2.Developed structure and long service life.
3.Difficult deformation with high strength.
4.Unblocked material flow and large production capacity.
5.Smooth and reliable performance.
6.Low consumption of spare parts and low maintenance costs.
Product Structure
The motor drives the rotor to rotate at a high speed through the belt, and on the rotor there are series of hammers. When the material get into the working area of hammers, the rotating hammers with high rotation speed are crushing the material, the crushed product meeting the required size can be discharged by the outlet and become the final products, the large size product are brought back to the crushing area by the hammers for being re-crushed until they reached the required size.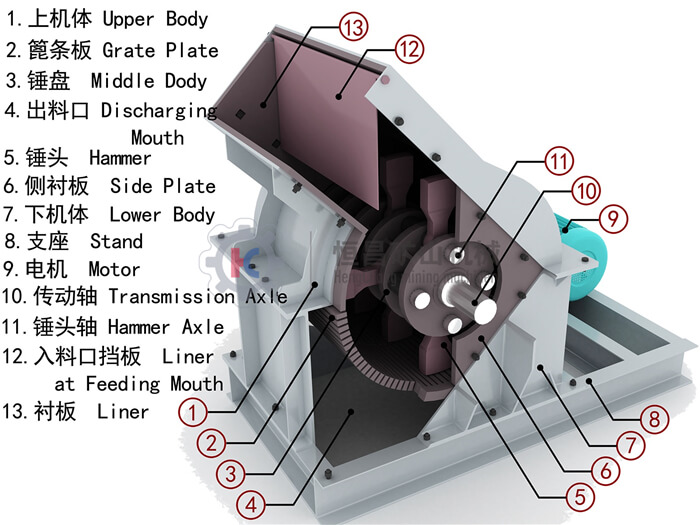 Technical Parameter
Model

Feeding Size
(mm)

Discharging Size
(mm)

Capacity
(t/h)

Power
(kw)

Weight
(kg)

Dimensions
(mm)

PC400×300

≤200

≤25

5-10

5.5

800

900×670×860

PC500×350

≤200

≤25

8-15

11

1200

1000x770x900

PC600×400

≤210

≤30

10-22

18.5

2200

1200×1050×1200

PC600×600

≤250

≤30

15-30

45

2140

1300X1000X1250

PC800×600

≤250

≤35

18-40

55

2450

1310×1180×1310

PC800×800

≤250

≤35

25-45

55

3050

1440×1740×1410

PC1000×800

≤300

≤40

25-50

75

5900

1600×1390×1575

PC1000×1000

≤300

≤40

30-55

132

8000

1800×1590×1775

PC1200×1200

≤350

≤40

35-65

180

14000

2060×1600×1890

PC1400×1400

≤350

≤40

50-100

280

32000

2365×1870×2220

PC1600×1600

≤350

≤40

100-150

480

37500

3050×2850×2800
Related product
Related Case
Related Solution